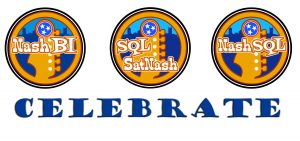 Normally in February we try to have a meeting that is more of a celebration, mostly because February was the month we launched NashBI. This year we ran into issues with weather and finding a location to have such a party. So many places are too small or too expensive ($500 (just for space) – $2400 (with steak)). Now that we have finally worked out the details we are proud to announce our party details and are delighted to invite NashSQL!
Why did we invite those guys? I don't know, seems like they are ok peeps and we are going to try to do more things together. If you haven't noticed, we've even secured new MATCHING logos. We have lots of fun things to share.
This year we will be meeting at Tin Roof 2 on Carothers in Cool Springs.  We'll have plenty of time to socialize, eat, drink, and be merry! We have gift bags for everyone and are collecting tons of prizes to give away for the evening. You can't win if you aren't there. We'll get there early (5p-5:15p) to set things up, but feel free to join us and help out or just hang out.
We plan on having a short meeting, just to make some announcements, let our event sponsors speak for a few minutes and then we'll be making teams to play a Jeopardy!-style trivia game. Don't worry we won't make you answer in the form of a question. Currently the team with the highest score will get bragging rights but there should be plenty of prizes to go around.
At 8pm the bar has their own trivia night, so feel free to grab a table and round up a team. You should be all warmed up from our activities.
Now the details:
When:  Tuesday April 25th
Where: Tin Roof 2
5:45 PM Food will be set up, there will be a "bar food" buffet (So, this better be your cheat day.)
6:00 PM Announcements/Sponsor comments/How the game works/Team Selection (I'll give you a hint, more than likely by table.)
PLAY! Laugh! Learn!
We'll be taking commercial breaks to allow for more food consumption and beverage buying.
Prize Drawings
Your food will be covered, but it is BYOB (Buy Your Own Beverage). Tin Roof says you can open a tab and order off the menu if you'd like. They are also allowing us to spill over down stairs, so you will see shuffling of some folks back and forth. We will need you to sign in and get a name tag–we love community, but don't want to feed the whole bar.
Event Sponsors:
CTS is a regional software consulting firm that specializes in solving complex IT problems with creative and customized solutions. With our full-time employee base, we deliver software development, business intelligence, quality assurance, and application support solutions. In other words, we build it, test it, report on it, and support it.
At CTS, our people are at the center of our business. We provide continuous opportunities for professional development with a roadmap to help you advance and navigate your career. Every project is unique and provides new challenges and opportunities to learn from some of the best minds in the business. Since CTS serves local clients, you won't be a road warrior. You'll work with a local team of smart, dedicated people like yourself, and we'll plan monthly team events so you can have fun, too. With our career development program and internal training initiatives, you have all the tools you need to reach your full potential.
Founded in 1999, SIOS Technology Corp. makes software products that provide the insights and guidance IT managers need to optimize and protect business critical applications in complex data centers.
SIOS iQ is a machine learning analytics software solution that helps IT managers optimize performance, efficiency, reliability, and capacity utilization in virtualized environments.
SIOS SAN and SANLess software is an essential part of any cluster solution that provides the flexibility to build Clusters Your Way™ to protect your choice of Windows or Linux environment in any configuration (or combination) of physical, virtual and cloud (public, private, and hybrid) without sacrificing performance or availability.
TEKsystems is the nation's leading IT staffing and services firm.  Here in Nashville we support over 80 different clients within Applications Services.  We focus on delivering consistent employment opportunities, continual communication throughout contracts, and advancing consultant careers through contract opportunities as well as direct hire roles.  We build a recruiting force committed to building relationships with IT professionals here in Nashville and offer opportunities both locally and nationally.  Here at TEKsystems Nashville we look to serve our professionals with consistent communication, strategic partnership, and career advancement.  We are grateful to have the opportunity to partner with the IT professional community and are always looking to improve our relationships and partnerships.
________________________________________________________________________
SWAG/Prize Sponsors:
Register:
https://www.meetup.com/NashBI/events/238772751/ Before NOON the day before. We will have to limit the number of attendees, so we ask that you please keep your status updated.